I had three appointments I needed to re-arrange. And all three people I was supposed to meet with last Friday were flexible and I was able to clear my schedule. Whew. What a relief.
I needed to make sure that I was going to be home all morning on Friday. I had paid for next day shipping with A.M. delivery and I didn't want to miss it. Missing the shipment would mean I would have to wait until the evening to go to the FedEx distribution center across the city to pick up my new computer. I really didn't want to do that.
And that is how my unplanned vacation started.
I woke up early Thursday morning and was working away composing and exporting stems for a film project I'm working on. All was well with the world. I was pleased with the pace I was keeping and with how the music was sounding. Life was good!
I had to emerge from my subterranean dungeon/studio (I work in the basement) to take care of the dog and make some phone calls. When I went back downstairs the computer wouldn't respond. I hard rebooted. Nothing but fan noise. I unplugged everything because I've had an external drive cause this behavior in the past. Still nothing.
Without panicking too much I packed up my MacBook Pro and quickly went to the nearest Apple-Certified repair store. The initial diagnostic came back clean, but I left it with them because they couldn't get the screen to turn on either.
Turns out it was the logic board. Totally dead. Fried. My MacBook Pro was built in early 2011 and is now considered a "vintage" model so it was irreparable. They don't make those parts anymore. Sad times.
Immediately after I got off my mastermind call with the incredible Dennis and Sean I ordered a refurbished MacBook Pro from Apple with next day shipping and A.M. delivery. It was about 3:30 in the afternoon.
I thought this was great! I'll only miss about 24 hours of work time. Once I get the computer the repair shop said they could transfer the contents of my old hard drive over and I'd be up and running in no time. I was counting my blessings that I even had the resources to replace the computer so quickly.
And then I got this ominous text message: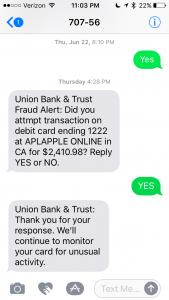 My bank thought my purchase was fraud and stopped the transaction. Ugh. It was now 4:30pm. I responded as quickly as I could.
At 6:00pm I received an email from Apple saying,
We could not complete your order.
Seriously?
I call the bank. Despite my validating the purchase my bank has a per day spending cap and between buying groceries, filling the cars with gas, paying a few bills, and purchasing a replacement work computer I had exceeded the cap. Sheesh.
Once the bank temporarily extended my spending limit so I could re-authorize the transaction I followed the instructions in the email from Apple and had them attempt to re-charge my card.
The payment went through. Finally! And my order was still saying I would receive it next day before noon.
Awesome.
But…
When I woke in the morning and checked my shipping status it still said next day delivery, but also said the computer will arrive on August 7. Very confusing. That's four days after I placed my order and three days after it was supposed to arrive!
My order page on Apple's website gives the option to chat with an expert. So I did. I asked what's up with the shipping change. I could understand that the shipment might get delayed for one more day and I get the computer on Saturday instead of Friday. However, I got some run-around answer about FedEx not delivering on Saturdays. Well, I know that's not true and call them out on it. The best they do is refund the extra $23 I spent on overnight shipping.
And that brings me to my unplanned vacation.
I've spent the last two days doing what I can on my university computer, which isn't much. My files and software are all on my primary hard drive which is in a repair store. I've done more reading than I would have normally. I've also practiced the piano a lot. Even got in 18 holes this afternoon. And lots of extra family time.
Through all of this I've learned some things about myself:
My work might be too much of a priority in my life. I am literally having anxiety that I'm not getting tasks done and moving things forward. We should work to live, right? Perhaps I'm living to work.
I have been blessed with extra time to slow down and breath and I'm struggling to do it. The irony in this is that I had been complaining to my wife just the night before that I hadn't gotten a real vacation this year. Sure, I'd taken time off and had been with my parents and siblings for an extended trip last month, but my family takes vacations by doing as many things as possible in a just a couple of days. It was great! But not restful. Now I have an opportunity to rest and my mind is buzzing and I find myself pacing the house.
I'm actually doing ok rolling with the punches. Despite the anxiousness, I haven't gotten too upset about the delivery schedule change. I think I was able to accept that it just was, I was powerless to change it, and the computer will get here eventually. I'm proud of that. This forced slowdown has been good for me.
The computer is supposed to arrive tomorrow (Monday) morning. I've had to make special arrangements for the delivery as I'll be tuning pianos at a school for the blind in a city an hour away all day. Maybe I'll be back up and running by Wednesday.
The lesson learned here is that when things like this happen, and they will again at some point, I can let myself enjoy the undeserved and unplanned vacation from work. Has this delayed my composition projects, prepping for the new semester, and getting podcast episodes ready? Absolutely.*
But will the world stop spinning? Nope. And I've communicated with those I'm working with. They're not upset.
I think everything will turn out just fine.
*On that note: don't be surprised if this week's episode is late. Or doesn't happen at all.